DOURO INTERNACIONAL NATURAL PARK

During Douro Internacional Photo Tour we will focus on the area of the Nature Park formed by the Douro river. It comprises the natural border this river form between Portugal and Spain and also includes the last kilometers of the Águeda river, totaling 85,150 hectares. It is one of the largest rivers in the Iberian Peninsula and, when it enters Portugal, it appears as a deep valley.
THE GREAT IBERIAN CANYON
Formed by vertical cliffs, this river cannon extends for 130km within the Natural Park. With these characteristics, it assumes itself as the "Grand Canyon" of the Iberian Peninsula and is one of the wildest areas of southern europe, home to the most important cliff-breeding bird populations. These are mostly formed by vultures (Griffon Vulture, Black Vulture and Egyptian Vulture), Golden Eagle, Bonelli's Eagle, Black Stork.
But there are also smaller species such as the Peregrine Falcon, the Chough, the Alpine Swift and the Blue Rock Thrush. It is also the habitat of some elusive mammals, like the Iberian Wolf, the Wildcat and the Roe Deer.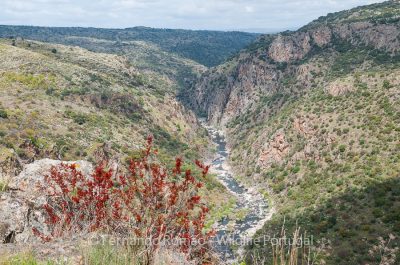 DOURO INTERNACIONAL NATURE PHOTO TOUR
We will explore the characteristic landscape, the native flowers and fauna -either insects or birds. This territory is characterized by a microclimate marked by low rainfall, low winter temperatures and high summer temperatures. Here we find a Mediterranean vegetation consisting mainly of holm oaks (Quercus rotundifolia) and cork oaks (Quercus suber). Also noteworthy is the formation of juniper (Juniperus oxycedrus), nettle trees (Celtis australis), pyrenean oaks (Quercus pyrenaica) and portuguese oaks (Quercus faginea).
It is a territory with low human occupation, which has long been able to shape this landscape through traditional farming practices and which provided a mosaic of habitats highly important for biodiversity. It is this ruralized landscape among with the wild ones, that makes the Douro area a very scenic one.

FEISOL is a manufacturer of carbon fibre tripods and monopods that uses cutting-edge design and technology to give its products great strength and low weight, improving their portability and usability. So you can concentrate on taking the best pictures.
Fernando Romão is a Feisol ambassador who relies on its tripods and ballheads for his photographic work and birdwatching activities.
You can benefit from a 5% discount on your purchases at www.feisol.eu by adding the code fernando5 at the end of the online ordering process.