THE BIRDS OF TEJO INTERNACIONAL NATURAL PARK
This Natural Park covers the international section of the Tejo River with its main tributaries, Aravil, Erges and Pônsul, covering an area of 26,484 hectares. The forest cover of the park is mainly formed by forests of cork oaks and holm oaks. It is an important nesting area for Mediterranean birds, birds of prey and cliff-breeding birds. We can spot here the Bonelli's Eagle (Aquila fasciata), the Golden Eagle (Aquila chrysaetos), the Iberian Imperial Eagle (Aquila adalberti), the Short-toed Snake Eagle (Circaetus gallicus), the Black Stork (Ciconia nigra), the Griffon Vulture (Gyps fulvus), the Egyptian Vulture (Neophron percnopterus), the Black Vulture (Aegypius monachus), the Eurasian Eagle Owl (Bubo Bubo), the Blue-winged Magpie (Cyanopica cooki), the Spotless Starling (Sturnus unicolor), the Spanish Sparrow (Passer hispaniolensis), the Golden Oriole (Oriolus oriolus), the Bee Eater (Merops apiaster), among others.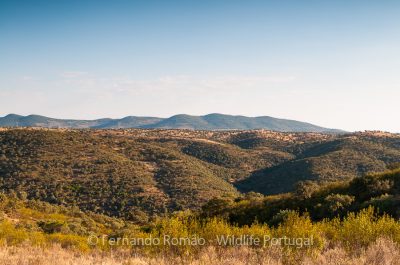 A MEDITERRANEAN SAFARI

Birds of the Tejo Internacional is a program that, with an off-road vehicle, takes us through different places of the Tejo Internacional Nature Park, using local and dirt roads to reach the most remote and emblematic areas of this protected area.
Although the purpose of the activity is birdwatching, it is always likely to have a random observation of some Red Deer.