DOURO INTERNACIONAL NATURAL PARK
This Natural Park includes the natural border between Portugal and Spain, formed by the Douro and Agueda rivers, along 130km and within an area of 85.150ha. In this section, the valley of the river shapes a deep canyon with steep slopes, mainly cliffs.
In terms of fauna and especially birds, the Douro Internacional Natural Park is one of the most important areas in the national and even Iberian context. The bird fauna is the most representative group in this area, due to the great diversity and the occurrence of several endangered species, which hold here an important percentage of their nesting populations at national and Iberian level, of the 170 species recorded, 126 are nesting.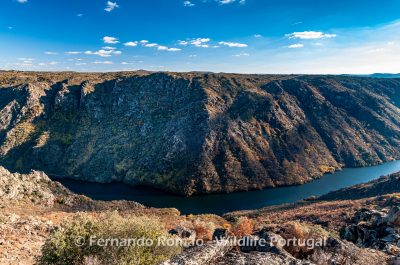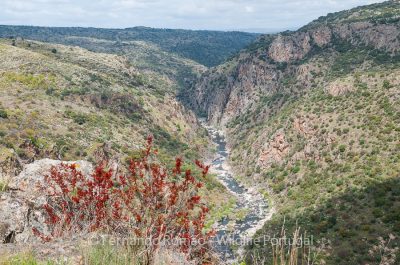 THE BIRDS OF DOURO NATURAL PARK

Black Stork (Ciconia nigra)
Black Vulture (Aegypius monachus)
Egyptian Vulture (Neophron percnopterus)
Griffon vulture (Gyps fulvus)
Golden Eagle (Aquila chrysaetos)
Bonelli's Eagle (Aquila fasciata)
Short-toed Snake Eagle (Circaetus gallicus)
Booted Eagle (Hieraaetus pennatus)
Eagle Owl (Bubo Bubo)
Red-rumped Swallow (Cecropis daurica)
Crag Martin (Ptyonoprogne rupestris)
Alpine Swift (Apus melba)
Hoopoe (Upupa epops)
Golden Oriole (Oriolus oriolus)
Red-necked Nightjar (Caprimulgus ruficollis)
European Bee-eater (Merops apiaster)
Black Wheatear (Oenanthe leucura)
Blue Rock Thrush (Monticola solitarius)
Orphean Warbler (Sylvia hortensis)
Sardinian Warbler (Sylvia melanocephala)
Subalpine Warbler (Sylvia cantillans)
Woodchat Shrike (Lanius senator)
Thekla Lark (Galerida theklae)
Iberian Magpie (Cyanopica cooki)
Spotless Starling (Sturnus unicolor)
Spanish Sparrow (Passer hispaniolensis)
Rock Bunting (Emberiza cia)
We spent a wonderful day with Fernando who took us to a variety of wild and spectacular locations and showed us highlights of the local birdlife. Many different eagles and wonderful views (from above as well as below!) of vultures as well as smaller passerines. Knowledgeable, friendly, indefatigable and thoroughly professional, we had a great day with a super enthusiastic guide. Very highly recommended.