At the top of Portugal

At almost 2000m of altitude, Estrela Summit is characterized by a high plateau and is the highest place in Portugal mainland. Its imposing and spectacular rocky landscape is deeply shaped and marked by the scars left by the ancient glaciers. In addition, it houses exclusive habitats and a considerable amount of endemic species of plants and animals, some of them, not existing anywhere else in the World.
Exclusive wildlife
In this higher altitudes, one can find and watch with ease, the ex-libris of the Estrela reptiles, the Iberian Rock Lizard (Iberolacerta monticola), an endemism of this Mountain.
It is also possible to see some insects that are exclusive from here. The Monotropus lusitanica, the Iberodorcadion brannani the Zabrus estrellanus and the Ctenodecticus lusitanicus are the main ones. Other species found in Estrela Mountain its exclusive distribution range in Portugal. Such is the case of the Moorland Hawker (Aeshna juncea) and Yellow-winged Darter (Sympetrum flaveolum) dragonflies, and the Black Satyr (Satyrus actaea) butterfly.

From the group of existing birds and that we can observe around the summit, the Rock Thrush (Monticola saxatilis), the Montagu's Harrier (Circus pygargus), the Northern Wheatear (Oenanthe oenanthe), the Crag Martin (Ptyonoprogne rupestris), and the Chough (Pyrrhocorax pyrrhocorax) are the more common ones.
Botanic highlights
The highest ground of Estrela summit presents pseudo-alpine features and therefore the vegetation is mostly formed by small-sized plants, shrubs like the Juniper (Juniperus alpina) and grasses such as Festuca henriquesii and Cervum (Nardus stricta), plants adapted to the adverse weather of winter with a regular coverage of snow. The Campanulla herminii, a beautiful blue flower that is associated with altitude pastures (cervunais) and the Silene foetida subsp. foetida, bloom during the summer months. But since the middle of winter and early spring we can see several species of daffodils (some are Iberian endemisms) and the Fritillary (Fritilaria nervosa).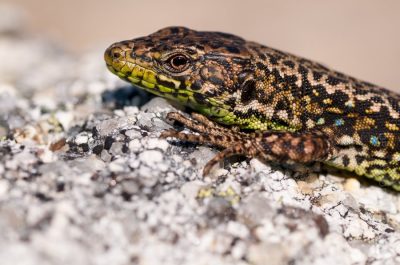 Estrela High Plateau
This circular route, around Estrela Summit, the top of continental Portugal, offers magnificent views of the surrounding territory. Despite the apparent "naked" aspect of the landscape along this itinerary, you will get to know some of the most important and unique habitats, animals and unique plants that characterize the Upper Floor of this Mountain. A plateau with sub-alpine characteristics, where the vegetation is little more than shrubs and grass, forming a landscape with interspersed shrubs with altitude meadows, ponds and natural lagoons of glacial origin, with the constant presence of granite.