This Nature Park covers the international section of the Tejo River with its main tributaries, the rivers Aravil, Erges and Pônsul, covering an area of 26,484 hectares. The forest cover of the park is mainly formed by forests of cork oaks and holm oaks. Is an important nesting area for Mediterranean birds, the birds of prey and cliff-breeding birds, and we can observe here the Bonelli's Eagle (Aquila fasciata), the Golden Eagle (Aquila chrysaetos), the Iberian Imperial Eagle (Aquila adalberti), the Short-toed Snake Eagle (Circaetus gallicus), the Black Stork (Ciconia nigra), the Griffon Vulture (Gyps fulvus), the Egyptian Vulture (Neophron percnopterus), the Black Vulture (Aegypius monachus), the Eurasian Eagle Owl (Bubo Bubo), the Blue-winged Magpie (Cyanopica cooki), the Spotless Starling (Sturnus unicolor), the Spanish Sparrow (Passer hispaniolensis), the Golden Oriole (Oriolus oriolus), the Bee Eater (Merops apiaster), among others.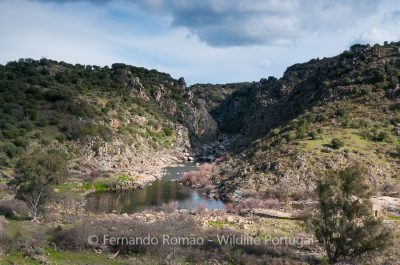 DATASHEET
Duration: 1 day.
Type: mixed (pedestrian and with 4×4 vehicle).
Price per person: 40,00 € (with a minimum of 4 inscriptions)
The price of the activity includes expert guide, transportation from Idanha-a-Nova, optical equipment, insurance and taxes.
Groups till 6 participants. Other conditions please contact us.
---
HOW TO REGISTER
Through the contacts available, indicating your name and cell phone contact/email.
The reservation is only guaranteed upon payment of 50% of the registration fee.