At the summit

At almost 2000m of altitude, Estrela High Plateau form the summit of Estrela Mountain and the highest place in Portugal mainland. Its imposing and spectacular rocky landscape is deeply shaped and marked by the scars left by the ancient glaciers. In addition, it houses exclusive habitats and a considerable amount of endemic species of plants and animals, some of them, not existing anywhere else in the World.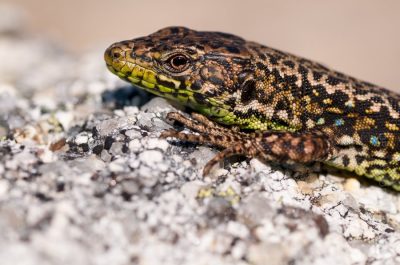 This circular route, around the highest point of continental Portugal, offers magnificent views of the surrounding territory. Despite the apparent "naked" aspect of the landscape along this itinerary, you will get to know some of the most important and unique habitats, animals and unique plants that characterize the Upper Floor of this Mountain. A plateau with sub-alpine characteristics, where the vegetation is little more than shrubs and grass, forming a landscape with interspersed shrubs with altitude meadows, ponds and natural lagoons of glacial origin, with the constant presence of granite.
Duration: 4h
Extension: 8km
Altitudinal difference: 243m (minimum altitude – 1750m, maximum altitude – 1993m)
Waypoints / Interest: Lakes and glacial depressions, glacial valley.
Realization períod: from May to November
---
RECOMMENDATIONS AND PRACTICAL ADVICE
Use of comfortable clothing and footwear, adapted to the expected climatic conditions, namely: light clothing, thermal (polar) and breathable, a waterproof/windbreaker and mountain boots with gore-tex, hat or cap and gloves for the cold and pants that allow freedom of movement, sunscreen. Take a bottle for liquids of at least one liter capacity, per person. In case of walks lasting more than 3 hours it is advisable to carry a food reinforcement. Backpack (between 15 and 20 liters capacity).
Even during the summer, the weather can deteriorate very sunddenly and become somewhat harsh: strong winds, low temperatures, fogs. Depending on the weather conditions for the day of the activity, there may be, or not, a change or cancellation of the program.
Price per person: € 17,50 (with a minimum of 6 inscriptions)
The price of the activity includes specialized guide, insurance.
For other situations and groups from 6 to 15 participants we offer different conditions. Please contact us.
Must add 23% VAT.
Through the contacts available, indicating your name and cell phone contact/email.
The reservation is only guaranteed upon payment of 50% of the registration fee.
email: info@wildlifeportugal.pt
phone: +351 918 068 872