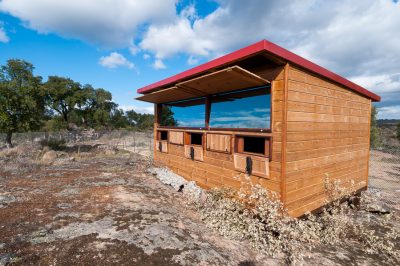 TESTIMONIALS
Well equipped hide to have an amazing view on vultures and raptors living in the Faia Brava Reserve. We met in the village of Algodres and were brought to the hide in a Land Rover. While we seated, meat was spread over the rocks. We only had to wait 10 minutes until the vultures discovered their food and massively attacked. We stayed for 2 hours watching, sitting on convenient office chairs behind mirroring glass so the birds could not see us. A true safari experience, not cheap but worth the price.
Having the privilege of enjoying such comfortable space while waiting for the birds to appear is absolutely fantastic. The hide is undoubtedly the best I have ever seen in Portugal and is similar to others we can find in the most iconic places of the planet for wildlife photography. Fernando is a great professional and prepares each photo session with a great attention to every detail so that nothing fails. The place is magnificent, with a spectacular view over a Mediterranean landscape where numerous species abound, allowing us to make spectacular photos.
It was the first time I visited a vulture hide so I didn't know what I could expect. When we arrived we saw the vultures already flying above the hide so that was a good sign. We went into the hide, were we got an introduction. Then Fernando placed the meat and created a waterpool. After a quarter the first Black kites showed up. Wonderful birds and great to watch them flying around and diving with high speed on the meat. Not much later we saw a group of vultures approaching, suddenly the first Griffon vulture landed in front of the hide and after the first one they came down with many others (80+, including Egyptian vultures)! What an incredible moment, and what a spectactular force... the meat dissappeared in a few minutes! Nevertheless enough vultures stayed in front of the hide, including the Egyptian vultures (and the Kites), wich resulted in great photo-opportunities. The hide was very comfortable, much space inside and really comfortable chairs. Also the host, Fernando, was very kind and helped us really well to increase the chance for good photo-opportunities! Thanks a lot and maybe I'll come back for the Black vulture 😉 Kind regards, Thijs Glastra and the rest of the family!
This was my most amazing wildlife hide experience ever!! Loved the way Fernando organised everything! Strongly Recommend!