DOURO INTERNACIONAL NATURAL PARK

During Douro Internacional on a Discovery, we will focus on the area of the Natural Park formed by the Douro river. It comprises the natural border this river form between Portugal and Spain and also includes the last kilometers of the Águeda river, totaling 85,150 hectares. It is one of the largest rivers in the Iberian Peninsula and, when it enters Portugal, it appears as a deep valley.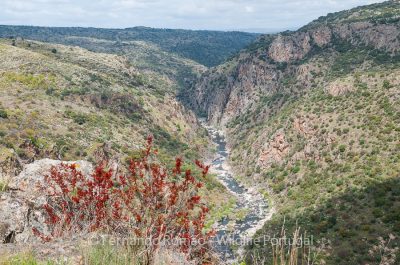 THE GREAT IBERIAN CANYON
Formed by vertical cliffs, this river cannon extends for 130km within the Natural Park. With these characteristics, it assumes itself as the "Grand Canyon" of the Iberian Peninsula and is one of the wildest areas of southern europe, home to the most important cliff-breeding bird populations. These are mostly formed by vultures (Griffon Vulture, Black Vulture and Egyptian Vulture), Golden Eagle, Bonelli's Eagle, Black Stork.
But there are also smaller species such as the Peregrine Falcon, the Chough, the Alpine Swift and the Blue Rock Thrush. It is also the habitat of some elusive mammals, like the Iberian Wolf, the Wildcat and the Roe Deer.